From the Rose Garden of the White House this morning, President Donald J. Trump joined faith leaders in prayer and called "religious liberty" the bedrock of American life.
Every citizen has the absolute right to live according to the teachings of their faith and the convictions of their heart," the President said. "To protect this heritage my Administration has strongly defended religious liberty."
Every year, National Day of Prayer, breakfast is held at the White House – preceded a day early with a dinner at the White House. Hundreds of community leaders are invited, with their respective community leaders voicing their opinion on religious liberty and national security.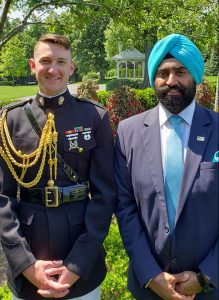 With the recent terrorists' attacks in New Zealand and Srilanka, President Trump underscored the importance of coherence among communities. President tweeted in the morning "as we unite on this day of prayer, we renew our resolve to protect communities of faith – and ensure that ALL of our people can live, pray and worship IN PEACE," with a hashtag of National Day of Prayer.
One of the most powerful moments from today's National Day of Prayer came when Rabbi Yisroel Goldstein took the podium. After being wounded in the shooting at the Chabad of Poway on Saturday, Rabbi Goldstein wrapped his bloodied hand in a prayer shawl, stood on a chair and addressed the congregation. "We are the Jewish nation that will stand tall. We will not let anyone take us down."
Muslim Community was represented by Sajid Tarar, a leading businessman from Maryland who is Founder of Muslims for Trump and played a vital role in the Trump campaign in the 2016 presidential elections. Mr. Sajid reiterated the need for coherent communities, and he met Vice President Mike Pence in the Rose Garden. He spoke to other community leaders and highlighted the importance of religious liberty for a prosperous country. Sajid Tarar praised the leadership of President Trump in keeping harmony among the different faith communities amidst the recent terrorist attacks in New Zealand and Sri Lanka. President Trump said, "we proudly come together as one Nation under God."
Jasdip Singh, President of Sikhs of America joined the National Day of Prayer along with community leader Satnam Singh to share the love of community coherence with other faith leaders in the Rose Garden. Breakfast was held in the morning where all the community leaders of different faiths exchanged greetings with President Trump and Vice President Mike Pence. Mr. Jasdip underscored the importance of "religious liberty" as a key factor of America's prosperity as "one nation under God."
The President has stood by communities of faith since his first day in office. Some of the gestures are small but powerful: "It's all Merry Christmas again," he said today, referring to how many stores and politicians used to tiptoe around the Christian holiday's name. Other actions are policy-specific. "President Trump has taken steps to ensure that the Federal Government will never, ever penalize anyone for their religious beliefs ever again," said Vice President Mike Pence while kicking off this morning's events at the White House.
News Report By KANWAL ABIDI
White House Correspondent & Bureau Chief, Washington D.C.